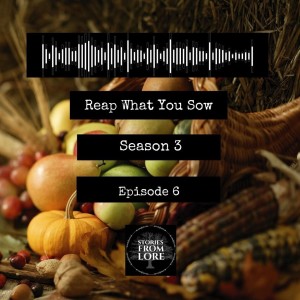 Wednesday Mar 30, 2022
Season 3 Episode 6: Reap What You Sow - Folklore of Farming, Allotments and Gardens
Merry Met virtual traveler and welcome to Stories From Lore. A monthly podcast that invites you to 'Rewild Yourself Through Story,' by exploring nature, folklore and the stories it inspires. My name is Dawn Nelson and I am an author and professional storyteller.
The spring is here at last and it's time to start sowing the seeds that will provide food for the table in the summer. This month's theme is 'Reap What You Sow' and for this episode I have some nature journaling from the garden as I plant up some dwarf fruit trees, the ballad 'All The Chickens In The Garden' the folklore of fruit and vegetables and the story of 'The Farmer & The Boggart'.
On occasion there are dark folkloric characters explored in this podcast and so, as always,  I would recommend that you should listen through first before listening with younger members of your household.
To 'Rewild Yourself Through Story', join me on patreon for digital zines, a book club, audio stories, previews, earlier extended versions of this podcast and online workshop.
For more stories woven with folklore and the old ways you can find me via the following channels:
www.facebook.com/ddstoryteller
www.instagram.com/dd_storyeller
References
Books
Baker, Margaret, (1969) Discovering The Folklore Of Plants, Shire Classics.
Russell et al (1973), Folklore. Myths & Legends Of Britain, Reader's Digest.
Simpson, Jaqueline & Roud, Steve (2000) A Dictionary of English Folklore, Oxford University Press, Oxford.
Harrington-Oakley, Christina, (2020) The Treadwell's Book Of Plant Magic, Readwells, London.
Websites:
The History Of Artichokes - https://www.nationalgeographic.com/culture/article/artichokes#:~:text=According%20to%20Greek%20myth%2C%20the,with%20him%20to%20Mount%20Olympus.
The History, Mythology and Health Benefits of the Artichoke
https://seggiano.com/inspiration/the-history-mythology-and-health-benefits-of-the-artichoke/
The Cornucopia in Greek Mythology
https://www.greeklegendsandmyths.com/cornucopia.html
Oat Plant Lore
https://www.plant-lore.com/oat/
The Legend Of John Barelycorn
https://www.learnreligions.com/the-legend-of-john-barleycorn-2562157
Music Attribution:
 Intro & Outro Music: Midnight Tale by Kevin MacLeod (incompetech.com) licensed under Creative Commons: Attribution 4.0 license http://creativecommons.org/licenses/by/4.0/